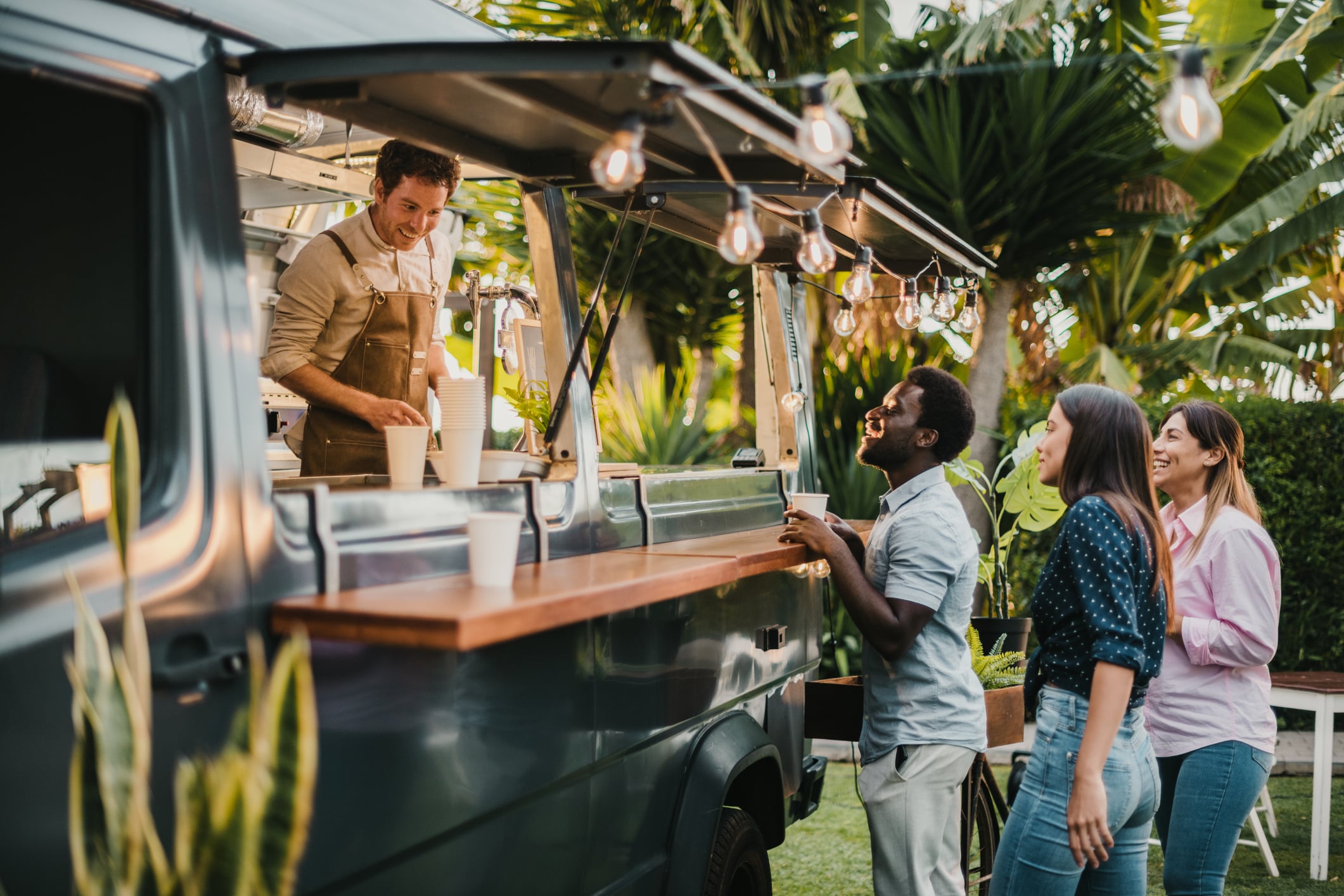 If you're just starting to break into the food truck business, you've likely realized financing is a big part of that process. Finding ways to finance your equipment and services will go a long way toward ensuring the profitability of the business long-term.
You need more than just delicious dishes and great customer service to keep your food truck running. Now is the time to focus on equipment financing solutions to build and retain a successful mobile cuisine operation. While we've provided tips for opening a food truck before, this guide dives deeper into the financing options available to get started.
Ready to get started already? Get started and secure your food truck financing with Clicklease today.
9 Questions About the Food Truck Business
The food truck business is a profitable industry that taps into the culinary desires of the public. But it takes diligence and the right financing solutions to start your business and keep it running smoothly. The following are some questions you might have about operating a food truck, including financing opportunities.
1) What Type of Financing Is Available?
You'll also need to shop around to explore possible options to finance a food truck. One of the most common options is a loan that provides the funds you need with reasonable repayment options. But that's not your only choice—here are some options for financing a food truck:
Equipment Financing
Equipment financing provides the necessary funds for your equipment, like a specific piece of restaurant equipment. As the business owner, you'll make payments to cover all your essentials.
The benefit of equipment financing is that you can customize the monthly payments to help you manage unreasonable repayment obligations that put your business in a deadlock. At the end of the term, should you choose to exercise your purchase option, you will own the piece of equipment that you financed.
Merchant Cash Advance
With a merchant cash advance, an individual or third-party company provides the funds you need to start your cooking services, taking a percentage of your business's sales. Think of this option as a loan advanced for your business: You receive cash now and repay your lender over time based on the number of sales you make.
Business Line of Credit
Think of a business line of credit as a simple credit card designed for small businesses in need of short-term funding solutions. Instead of receiving all your funds in a lump sum, you receive approval for a set credit limit. You can take out money against your line of credit and simply pay back the portion you borrowed.
Business Term Loans
Business term loans work best for food truck owners who prefer fixed, regular payments over time. In this case, you apply for a loan, make a down payment, and receive a source of cash needed to fund business expenses. You can use these loans to fund hiring expenses, kitchen materials, and equipment upgrades.
Repayment periods for business term loans can last anywhere from a few months to several years.
Working Capital Loans
Capital loans work best for borrowers in need of immediate financial assistance for daily operations. Capital loans provide businesses with immediate cash flow that food truck owners can use to cover multiple business expenses, including payroll, supplies, fuel, food, and other necessities.
2) What Food Truck Financing Options Are Best for Your Business?
The best options for your business depend on multiple factors, including your credit score, funding needs, operational demands, and how much you can pay upfront. If you opt for a loan, find a plan with low-interest rates and flexible payment periods with no hidden hassles.
It is important to note that loans are not your only options, so don't feel obligated to use them to fund your services. As mentioned, equipment financing via leasing is a solid solution if you want to quickly finance your equipment without a pile of old-school paperwork.
Plus, if you want the option to purchase your essentials at the end of your term, a lease may be a better option for your business. Some lease agreements don't even require a down payment.
3) How Much Money Do You Need for Financing?
On average, purchasing a food truck will cost anywhere between $70,000 and $80,000. Even if you have some money saved up for your business, you can still find yourself in a financial pit if you don't have the proper funds. This can leave your business struggling in a competitive market.
Here are some critical factors to consider when determining how much capital you'll need.
New versus Used Truck
Are you hoping to acquire a new or used truck? With a used truck, you'll have to deal with maintenance costs, repairs, and a lower vehicle life expectancy rate.
A new truck—if you can afford it—is more customizable, has a longer life expectancy, and requires little to no maintenance, allowing you to focus on other expenses.
Equipment Needed
Purchasing the right equipment is critical to keeping your operation afloat. To complete this step, you'll need fast funding from the right lender that can help finance your equipment essentials. Take some time to figure out exactly what equipment you'll need to turn your food trailer into a successful operation.
You'll likely need to invest in:
Sinks
Gas stoves
Fridges and freezers
Fryers
Specialized equipment for your business
Preparation equipment (e.g., utensils, aprons, oven mitts)
A Wi-Fi system (unless you plan on being cash only)
You may also need to print apparel for staff members. At Clicklease, we partner with equipment providers who can help you tackle all your to-dos. For example, our partnership with DTG Connection provides access to printing equipment for a low monthly payment.
What Menu Options Are You Offering?
Another thing to consider is the type of dishes you plan to offer and whether they require expensive ingredients or specialized equipment. Some menu options bring in more customers and generate larger profits than others. While this translates to more money for your business, take a step back and determine how much money you'll need for the specific cuisine of your food truck business.
As you begin your services, you'll realize that some options are pricier than others.
4) How to Get Financing with Bad Credit?
You typically need a credit score of 680 or higher to secure financing for your food truck business. However, you can still obtain the funds you need with a lower score. Some lenders focus on business revenue, current debt, and the reputation of your business.
Plus, you can use your equipment as collateral if you don't meet the credit score qualifications. If you want to increase your chances of qualifying for financing approval, build a strong case by presenting a strategic plan highlighting your business's key objectives and standout features.
5) Where Can You Find Financing Options for Food Trucks?
Banks and online lenders can provide you with financing options to get your food truck business started. The benefit of working with online lenders is you'll have more flexibility over payment plans, plus better interest rates and personalized offers.
Fortunately, Clicklease is committed to eliminating any barriers that stand between you and the funds you need for your food truck business. With our small business financing plan, you don't have to worry about credit scores—or finding the right vendors that offer customized payment solutions.
6) What Do You Need to Apply for Food Truck Financing?
The requirements for a financing application depend on the lender. But when applying for a business loan, you typically need to supply the following documents:
Business plan
Tax returns
Personal financial statements
Equipment information
Licenses and permits
Insurance coverage
Luckily, Clicklease is not in the business of delaying financing solutions for small businesses that need funds. Just by taking a couple of minutes to fill out an 8-question application, you can get an instant decision on up to $25,000 in equipment financing. Best of all, the Clicklease application does not do a hard credit pull, so it doesn't hurt your credit to apply.
7) How Popular Are Food Truck Businesses?
As a food truck owner, you're in a highly competitive market. Reliable statistics show approximately 36,324 food truck services in the United States. That number continues to climb as the demand for these services increases across food markets, music festivals, and other entertainment venues.
Since most of these venues and attractions depend on audience attendance rates, food trailers provide consumers with a fine dining experience that elevates the customer experience.
8) Are Food Trucks Profitable?
Food truck services generate between $250,000 and $500,000 annually. However, these numbers only reflect average estimates, so they are not exact.
To get an accurate estimate of how profitable your food truck business is, you'll need to account for:
Location
Startup costs
Permits and licenses
Operating costs
Equipment expenses
Repair costs
Profit margin
9) What Permits and Licenses Do You Need?
You'll probably need the same permits and licenses restaurants need. However, regulatory demands and legal regulations for food truck businesses vary by state. Also, remember that some permits are designed for truck vendors only.
Here's a list of permits and licenses you'll need to sell food on the road:
Vendor license
Employer identification number (EIN)
Driver's license
Food handler's permit
Health department permit (issued by the health department)
A health permit for food trucks will cost you anywhere between $50 and $1,000. Always check with your local health department for exact costs.
Finance Your Food Truck Services with Clicklease
As you can see, many financing opportunities are available to keep your food truck business afloat. At Clicklease, we help you find the right solutions you need to turn your business into a long-term success.
Get started today by filling out our 8-question application (which does not do a hard credit pull), then explore what options are available for funding.
Related Articles