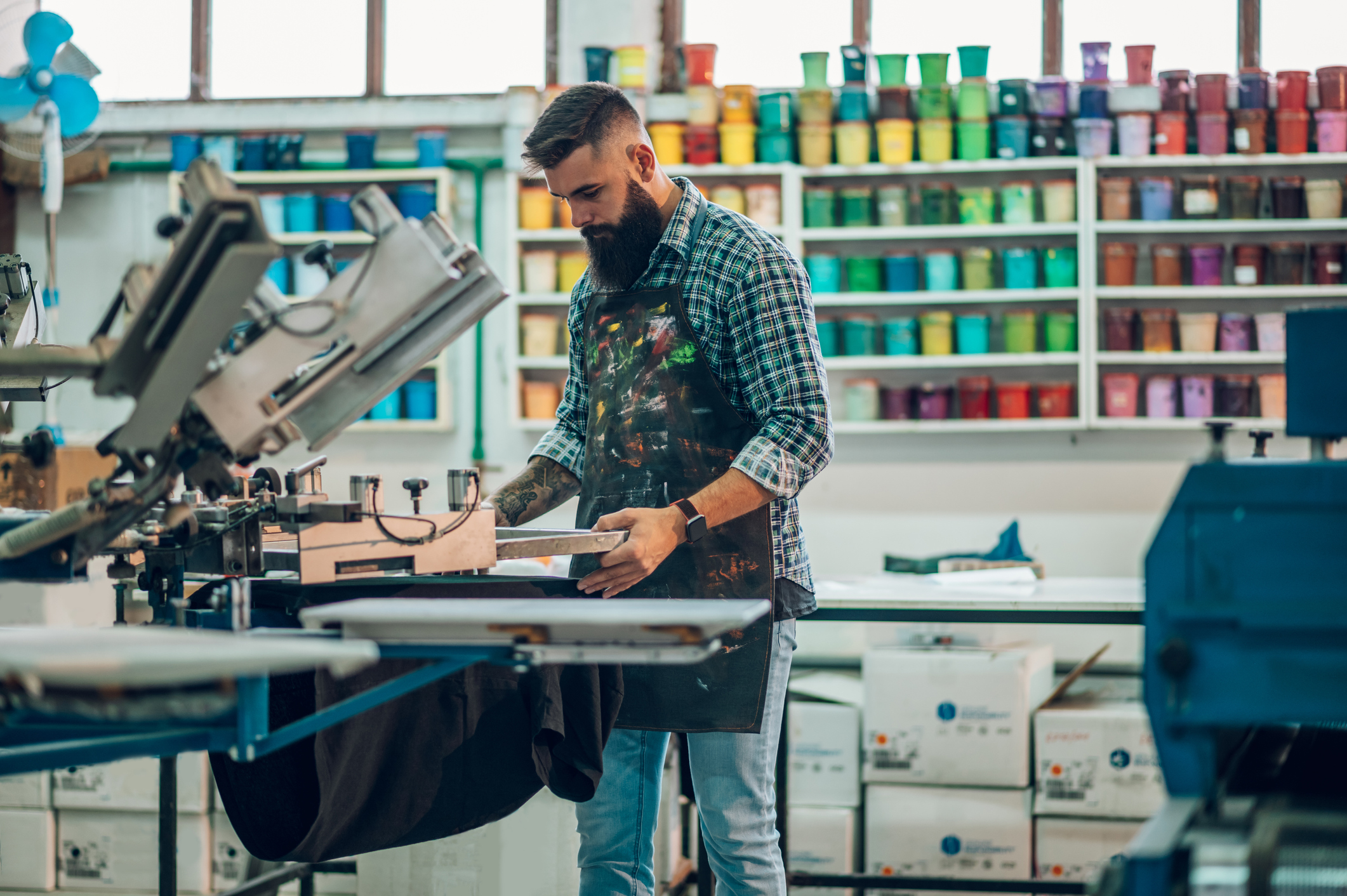 Whether you're a seasoned entrepreneur seeking a new venture or an aspiring business owner who plans to start an apparel business, chances are you've already heard about DTG or direct-to-garment printing. This printing method continues to grow in popularity as more consumers seek customized products and services. It requires low startup and operating costs and features flexible, on-demand production.
DTG presents a lucrative opportunity for entrepreneurs. Even better, you can use financing for direct-to-garment printing equipment to get a running start and set your business up for success.
Let's explore why DTG printing is a smart business venture and how Clicklease can help you get started.
What Is DTG Printing?
DTG printing is the process of printing full-color images onto fabrics with high-tech inkjet printers. It is also a relatively new printing technique. Using its superior color mixing capabilities, you can replicate designs too detailed for other printing techniques, such as screen printing.
For business owners, DTG printing provides a quick and effective way to create customized products. Fueled by increased demand for personalization, mass customization, and sustainable printing, the global DTG market is projected to grow from US $822.1M in 2022 to $1,820.1M in 2032.
Why DTG Equipment Is a Good Investment
Investing in DTG equipment is a smart idea if you want to get into the garment business. Here are the top reasons why.
1. High-Profit Margins
DTG printing equipment can lead to a significant ROI. You can sell customized shirts for around $20 to $25 (or more), yet they can cost only $3 to $5 to make with your equipment.
Once you invest in DTG equipment, you can start your operations immediately. The printing process requires little manual effort, which lowers labor costs.
DTG equipment can range anywhere from $10,000 to $30,000. Flexible financing options lower the barriers to entry by providing you the means to begin your business venture immediately. You can break even quickly with a consistent profit of at least $10 to $15 per shirt.
2. On-Demand Printing
Other garment printing techniques, such as screen printing, require a great deal of upfront labor and skill to produce pieces with complex color varieties. As a digital technology, DTG requires little setup and effort. All you need is a digital file of the design and the garment to print on. After pressing print, you'll have a ready-to-sell shirt with a high-quality design in minutes. This process reduces time-consuming labor and allows businesses to print quickly and on demand.
No matter the size of your order, you can maintain a profit margin and boost customer satisfaction with quick order completions. Moreover, the in-demand capability of your DTG printing equipment can enable your business to charge additional fees for rush orders.
3. High-Quality Printing
Regardless of how many shirts you need, direct-to-garment printing equipment produces high-quality results. DTG printers fire smaller ink droplets, creating exquisite, photo-like details for your products. Moreover, this technology works better in printing complex color transitions and gradients than traditional printing methods.
4. Sustainable & Environmentally Friendly
Screen printing typically uses inks that contain PVC and other chemicals. To make garment printing more environmentally friendly, leading DTG equipment manufacturers can become OEKO-TEX 100 certified, ensuring that the overall processes of using their equipment are environmentally safe.
5. Simple & Flexible
Direct-to-garment printing is simple and can be done in any space, from your garage to a leased commercial warehouse. The technology also enables you to expand your product offerings quickly and efficiently.
Apart from T-shirts, DTG equipment can print any fabric, as long as it's at least 50% cotton. This capability means you can create a wide range of customized products, including hats, towels, aprons, and sweatshirts. With low production and inventory costs, you may be able to return your investment sooner than expected.
Why Lease Your DTG Equipment?
The simplicity and profitability of DTG printing make it an ideal business venture. Leasing is a great option if you want to add DTG printing to your current income stream yet don't have enough capital to invest in new equipment or technology.
Leasing allows aspiring entrepreneurs to access their equipment through flexible and lower monthly payments rather than a huge lump sum. Here are some advantages leasing offers your business.
You Can Get Started Quickly: Time is of the essence in business, and most entrepreneurs miss out on opportunities because of delayed starts. By leasing your equipment, you can have the necessary technology to begin your operations as soon as possible.
It's More Affordable: Most companies don't require a hefty down payment, and you can choose the lease terms that best suit your budget.
It Frees Up Your Cash Flow: Because you won't need to worry about a burdensome investment for new equipment, you can focus on inventory, production, marketing, and satisfying your customers, maximizing cash flow in your business.
Financing Can Be Convenient: Companies like Clicklease provide a seamless and convenient process that makes it easy to get started, with approvals given within minutes.
What to Consider Before Leasing DTG Equipment
DTG equipment leasing can help businesses take the first step toward actualizing their new venture. However, it's still crucial to understand the process and assess your situation before deciding. Here are some factors to consider.
1. Assess Your Business Reality
Are you looking to increase productivity or expand your product offerings by acquiring new equipment? What is your expected revenue with this piece of equipment? Is it more than your monthly payment? By assessing your business goals, you can make informed decisions and make the most of your investment.
2. Learn About the Process
When you lease equipment, you enter into an agreement with a financing company like Clicklease. Make sure you familiarize yourself with the process and its requirements.
Clicklease offers a quick and seamless approval process. You can apply online in less than four minutes, with no documents needed and no threat of a hard credit pull. Once approved, you can select the term that fits your budget, and eDocs are available immediately.
3. Understand the Financing Terms
Leases have different terms than other financing options or buying equipment outright. Leasing can be advantageous if you have bad credit or are looking for extended payment plans to lower your operating costs. Since you must comply with the terms and payments throughout the lease period, take time to understand the terms and any fees that may apply if your business changes direction.
4. Consider the Interest
Most entrepreneurs lease business equipment due to lower initial costs and monthly payments. You pay a fixed rate over a specific period, with interest rates and fees built into the amount. If your company's cash flow is unsteady, inquire about payment flexibility, comparative interest rates, fees, and payout options.
Why Partner with Clicklease to Finance Your DTG Equipment?
Investing in direct-to-garment printing equipment is a convenient and hassle-free process with Clicklease. We've designed our financing solutions to kickstart your business and set it up for success. Clicklease offers the following benefits:
Flexible Credit Score Requirements: We offer financing solutions for all business customers, regardless of their credit score.
Tailored-Fit Payments: Our DTG equipment financing allows you to choose the payment and lease terms that suit your budget and cash flow.
Quick Process: We eliminate cumbersome paperwork and lengthy procedures by providing a seamless online application and approval process that you can complete in less than ten minutes.
No Hard Credit Pull: Credit-challenged entrepreneurs won't need to worry about the possibility of a hard credit pull, as we offer a risk-free application with zero impact on credit scores.
Enjoy Tax Benefits: Lease payments can qualify as tax deductibles under your business expenses, giving you more cash to grow your business.
To make it even better, Clicklease has partnered with DTG Connection to provide aspiring business owners with industry-leading DTG equipment. We offer low monthly payments customized to meet your budget and unique needs.
Let's take that first step toward turning your dream business into reality. Contact us today to get started!