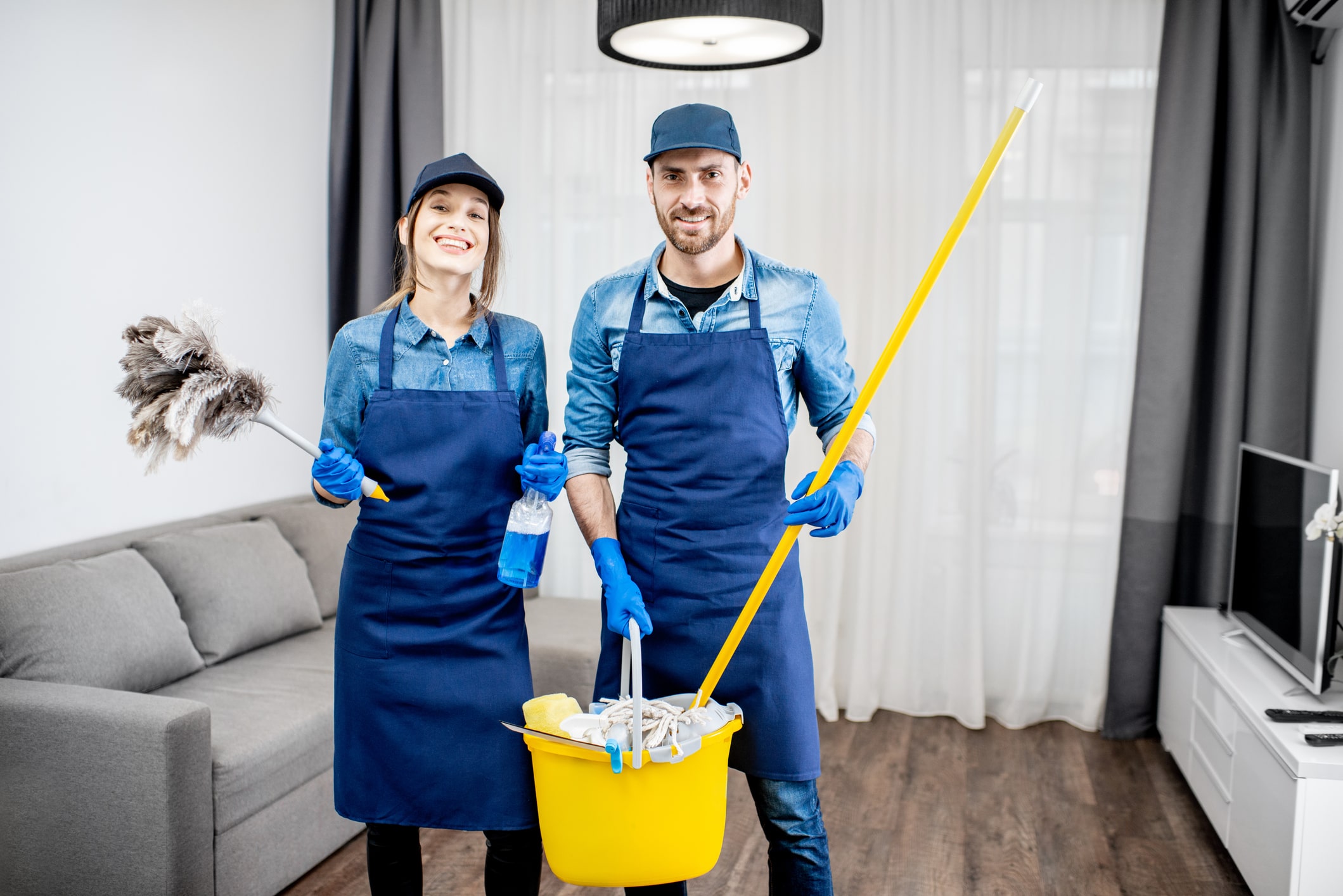 The market size of janitorial services is growing in the United States, making it a great time to consider starting your own business. However, planning all the details can get exhausting and daunting for first-time entrepreneurs. You will also need to ensure you have the right budget and funding for your startup. So, how much does it cost to start a cleaning business? Costs can vary greatly depending on your business plans, so this blog will explore the nitty-gritty details of every expense you can think of so you won't feel blindsided when it comes time to pay the bills.
Commercial vs. Residential Cleaning Business
There are two different types of cleaning businesses. Residential cleaning involves servicing people's homes, while commercial cleaning involves cleaning other business spaces.. In commercial spaces, you will need more expensive industrial equipment to do heavy-duty cleanings like window-washing and floor waxing. If you're looking to keep your startup costs low, business financing may be the perfect solution you need to finance the equipment to grow your business regardless if you are a commercial or residential cleaning business.
There's also a difference in workstyle to consider when deciding between the two. Cleaning homes is about being detail-oriented and thorough in a small space while cleaning office buildings is more fast-paced. If you are looking to work at night, a lot of businesses prefer you clean during those hours, which can be helpful if you have childcare needs.
Prepare for Startup Costs
Registering for your legal entity is one of the first costs of starting a cleaning business. If you plan on running the business alone without employees, you can consider registering as a sole proprietorship (around $10-60 depending on the state). However, you will likely save more money in the long term with tax breaks if you spend the extra money to register as a limited liability company (LLC), whether you intend to hire employees or not. For an LLC, you can expect a filing fee of around $100-$500, depending on your state.
After registering your business, you'll also need to research what licenses and permits your county requires. You'll need a business license in most cities, and some require more. Some other costs you may have in the beginning include:
Business bank account fees and minimum balance requirement
Payment processing system
Business vehicle(s)
Accounting software
Insurance policy
Insurance policy costs fluctuate based on area and what type of coverage you decide on. In general, expect to pay a few hundred dollars a month. At the very minimum, you should have a general liability insurance plan. However, if you plan on having staff, consider adding a worker's compensation insurance and janitorial bond.
Invest in High-Quality Equipment
As mentioned, a commercial cleaning business's equipment will be costly. For example, a quality floor buffer can cost over $1,000. Even if you just plan on cleaning homes, you will need a high-quality vacuum and heavy-duty carpet cleaner. Keep in mind that your vacuum will be getting everyday use and will likely experience a lot of pet hair, so you're going to want to invest in one that works well and will last.
A solid vacuum can still cost a few hundred dollars. After all your other startup costs, equipment expenses can start to feel like a lot. Luckily, there are many different cleaning equipment financing options, depending on who you purchase through. If your equipment supplier doesn't offer a payment plan or financing, you can always go through an equipment financing business for funding.
At Clicklease, we offer instant approvals from $500 to $20,000 for the equipment you'll need to start your cleaning business. Our low monthly payments make expensive equipment more affordable. See if you're approved. It's only 8 questions and won't hurt your credit.
Other cleaning supplies you will need are:
Broom
Mop
Cleaning buckets
Towels/Microfiber cloths/rags
Duster
Cleaning chemicals and disinfectants
Garbage bags
Sponges and brushes
Gloves
Paper towels
Uniforms
Cleaning supply organization
Factor in Staffing Plans
Staffing plans affect a lot. In addition to added insurance costs, you also must consider their wages. The average house cleaner salary in the U.S. is over $31,000, which will also change based on state. If you're planning on hiring staff and becoming a manager, your startup will need even more funding initially. If you're on a budget, you can always start as a solo act and work your way up to outsourcing the cleaning when you have enough profit.
Also, consider whether you're planning on hiring full-time employees with benefits or if you want part-time/contract employees. Be very clear in your job ads and plan ahead. Some popular job posting sites that you can use for free include:
Indeed
Google for Jobs
LinkedIn
Handshake
Consider Marketing
Websites can do a lot for your business, but they can also be expensive if you don't have web design experience. Many free website builders are available, but you will want to pay for a unique domain (web address) for $10-$20 per year. If you need to hire a web designer, rates vary a lot. Freelancers can charge anywhere from $500-$20,000 depending on their skill level and how complex of a website you desire.
In addition to a website, you may want to get a head start on the competition with some digital marketing. This can include optimizing your website to show up in search engine results more often or social media management to expose your services to a broader audience of people. Getting your name out there is pivotal if you expect your business to see quick and substantial profits after launch. Small businesses typically pay a couple of thousand dollars monthly for digital marketing services. While marketing isn't essential for success, it is wise to consider adding to the cost of starting a cleaning business if your goal is to grow from a small business into a corporation.
Expect Obstacles
Expect the unexpected when starting a small business. Entrepreneurship is not easy. One of the biggest obstacles small business owners face is funding and cash flow. Instead of giving up, utilize the resources available, like business loans and financing options. If you believe in your business, don't let money get in the way of your passion. As long as you're prepared for obstacles, you can overcome them. Some other challenges to be aware of include:
Difficulty finding quality staff
Lack of online presence
Tax compliance
Managing healthcare for full-time employees
Money management
Get Funding with Clicklease
Clicklease strives to make your business dreams come true and support you through one of the biggest challenges: Cost. Your startup expenses can start to add up and become overwhelming, especially if you want to maximize your profits right out the gate. Clicklease helps by offering business equipment financing solutions.
Don't worry about getting denied for equipment financing with Clicklease. Whether you have good, bad, or no credit, Clicklease can help you with cleaning equipment financing and more! Get started today!